In 1993 I rode across Iceland with my oldest son on horseback. There was a group of about 60 horses and I tried almost all of them. At that time, I did not understand the Tölt, but noticed very quickly that there were big differences in the gait, attitude and in the easy rideability of many Icelandic horses. We were fascinated by these lively, tough and willing to work horses with comfortable gaits, which probably infected us with the "gaited horse disease".
These intriguing creatures increased my resolve to buy a pony in my lifetime. So my souvenirs were many times more expensive than the trip itself, because we bought two Icelandic horses. Although I had learned how to ride a horse, I still did not know into which gaits my hot racing pony changed constantly. I needed support and began to take regular lessons with Bernd Vieht and Walter Feldmann.
In 2004 I moved to the USA for the third time with my family and It turned out that I could ride Missouri Foxtrotter stallions in Las Vegas. It was a good opportunity to try other gaited horse breeds in difficult terrain. So I bought a Missouri Fox Trotter, a Peruvian Paso and a 3-horse trailer.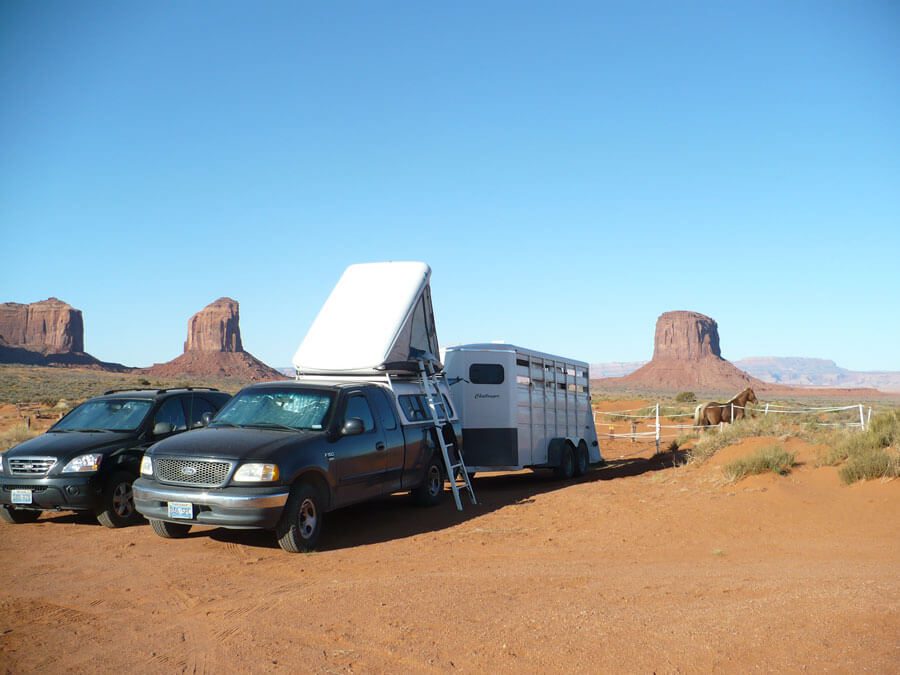 Equipped with plenty of water and a mobile electric fencing system, we undertook several weeks of adventure rides in the Rocky Mountains and national parks, etc. I had already tried many gaited horse breeds, such as Icelandic, Spotted Saddle Horse, Aegidienberger, Töltende Trotter, Tennessee Walker, gaited horses in Tibet, Etc.
In endurance, surefootedness, willingness to work, good nature and comfortable gaits in very difficult terrain, I was convinced the Fox Trotter performed the best of them all. So I decided to continue our adventure rides with Missouri Fox Trotters in Europe. I bought a second Foxtrotter, a quality mare, which I wanted to take with me to Germany.
I bought my strong Palomino mare, R. Champagne's Golden Velvet of very good pedigree and gaits, in California. Now I wanted to find a suitable stallion. I wanted a Fox Trotter who was child-friendly, could gait barefoot in Foxtrot without hoof angle changes or extensive training. The stallion should also be intelligent, good-natured and compact, have spacious and rhythmic gaits and be as removed as possible from the bloodlines in Europe. These were high standards in this relatively young breed. The desire for a particular color should not stand in the way of these high standards.
The choice fell on the 2004 World Champion in performance (gaits) Cardinal Gunslingers A. In his veins flows blood of 15 world champions and reserve world champions in the last 4 generations. In 2008 one of his sons became world champion in performance. He is known for transmitting his qualities to his offspring. My mare gave birth to a colt in Germany, which I called Gunslingers Velvet Vegas, to record the relation to the origin in Las Vegas. I was very fortunate, because Mother Nature had played along and with the inheritance of his natural gaits still set one on top.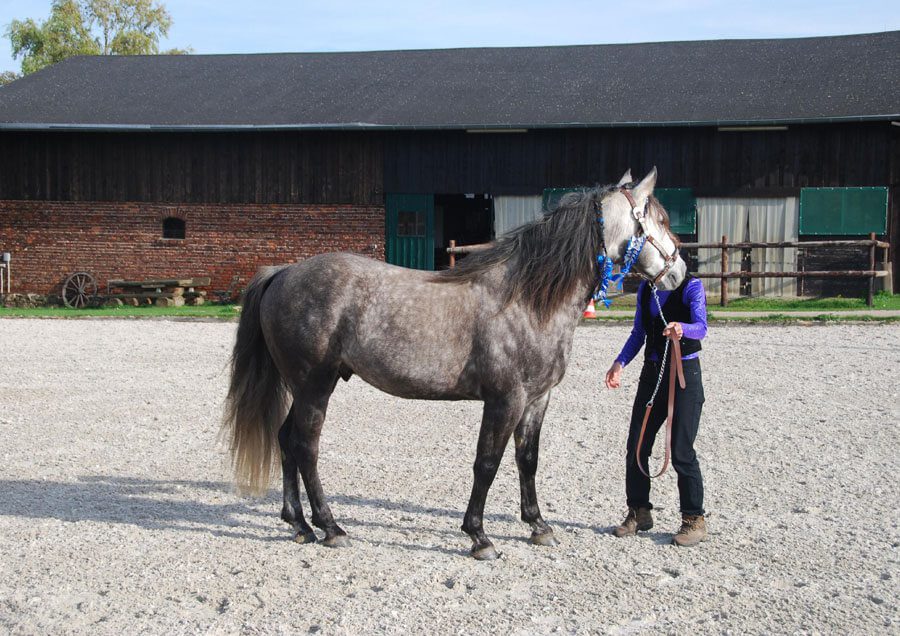 Today, Vegas is a good-natured, balanced, compact-built natural Fox Trotter and passes these qualities on to his offspring. He has enforced his breed-specific gaits even when mating with mares who have a strong tendency to pace. He has also been successful in improving upon the conformation of the mare in his offspring. Only recently a daughter was awarded with the grade 8.1 for the ZSSE as European Western Horse.
I still love to ride a groovy tölt or flying pace, but if you want distance, peace of mind, surefootedness, willingness to work and comfortable rides in rough terrain in a horse, then nothing beats a Missouri Fox Trotter. We have also taken adventure rides in Europe, to which our crossing of the Alps with Erich Küffner, the former head of Mountaineering Mountaineers of the Bundeswehr, is a highlight.
At the 2nd EMFTHA Breeding Show Gunslinger`s Velvet Vegas became the first stallion in class 1 of the still relatively young studbook of the breeders' association, as he passed the missing final exam without hesitation.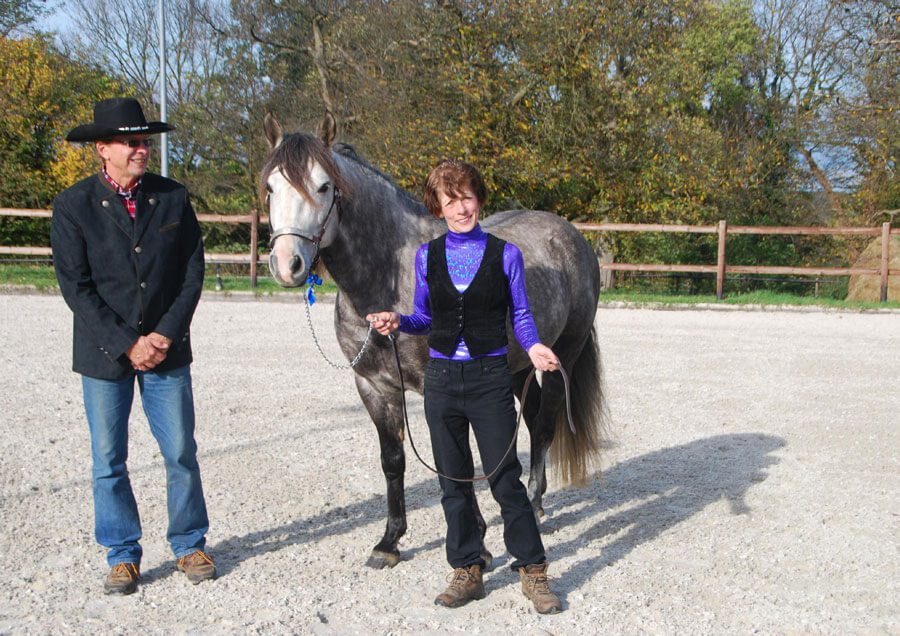 Renate Daub, Taunus Foxtrotter Ranch, Winterwerb/Deutschland